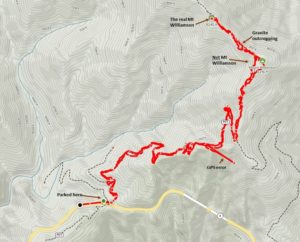 Mount Williamson is a reasonable distance from Angeles Crest Highway – about a 4 mile hike one way. The path takes the Pacific Crest Trail, then branches off to the peak. Alltrails labels the first peak as Mt Williamson – this is incorrect. You need to hike past a granite outcropping then get to the actual Mt. Williamson. On the way up, it is easy to lose the trail at that point. Stay to the right of the outcropping to stay on trail.
The peak is worth 8 SOTA points. It has a clear view of both the Antelope Valley and Los Angeles. With line of sight to Los Angeles, you can easily make the 4 contacts required for activation. I still haven't figured out why there are not more SOTA chasers in the Antelope Valley BTW.
The peak is over 8200 feet (2500 meters). I measured barometric pressure at 749 millibars.
I had 9 VHF chaser contacts and one summit-to-summit on April 15, 2022. Thanks to the following chasers:
KM6CEM
KI6SLA
KG6MZS
N6HEG
NG6R
K6HZR
KM6UHU
KN6DMO
KN6RDC